Tuesday, June 22nd at 12:00 PM EST
As schools and communities, we now know our students face epidemic levels of anxiety, depression, and self-harm. As we look towards the future and examine how to bridge student wellness at school and home, we must take a public health model approach with three lanes: well-being, distress, and crisis.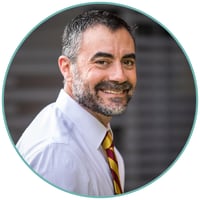 Join CrisisGo during our second webinar in the Mental Health Crowdsourcing Series with Dr. Aaron Krasnow, Licensed Clinical Psychologist, National Youth Mental Health Thought Leader, and Associate Vice President of Health & Counseling Services at Arizona State University.
Dr. Aaron Krasnow will give participants an overview of how to reframe this unique school year to approach student wellness as a guide to amplify and rebuild student supports, programming, and trust through his expertise in:
---
We Need Your Help
Creating a Successful Future for Schools!
Join Our Mental Health Crowdsourcing Team and Register for All Three Webinars in the Series to Gain Information and Create Your Plan!